Android mini PC
The device looks like a modern smartphone or tablet, or even surpasses them. Compare for yourself: quad ARM Cortex A9 processor with a frequency of 1.2-1.6 GHz, quad-core graphics accelerator ARM mini - 400, 2 GB of RAM, 8 GB of internal memory for system programs (NAND), Wi-Fi, Bluetooth, HDMI, USB ports output. Impressive!
Android-mini computer does not display, 3G, microphone, speaker, and requires no external power source, but this is not necessary, since it has a set of input / output ports, which can connect all peripheral devices, speakers and a microphone for the camera and 3G module.
So, when you connect a monitor, mouse and keyboard, you can get a full computer? If we assume that the personal computer is a means of access to information networks and as a gaming platform. For this Android mini PC was created. You can also view and edit documents, graphics, video, send and receive email, read books, make calls, and internet shopping, computer output is displayed on a big screen TV via Wi-Fi, and more ... And if we take into note that the Android operating system is growing rapidly, soon it will be difficult to imagine an application that does not exist for this platform.
Google's Android was designed for mobile phones, but now it has become a multi-functional and affordable in everything! It is installed on smartphones, tablets, e-books, digital music players, watches, netbooks, smartbooks, televisions, etc.
Android mini PC - not a substitute for pesonalnogo computer or laptop, but it is a good addition to the Smart TV multimedia. See a good movie, read the news or a book, play your favorite games, sit on the forums, see photos and all this on the big screen, sitting in a comfortable chair or sofa. It is very convenient!
Though the device small, but it conceals a great opportunity…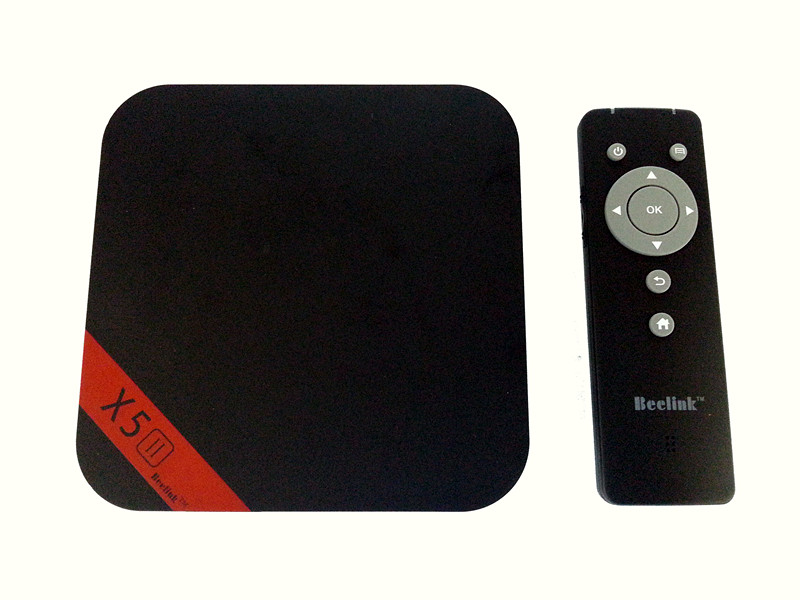 The media player with Android 4.2 with support for Full HD 1080p, built-in Wi-Fi 802.11b / G / N, HDMI and AV outputs, SPDIF out, two-port USB, USB port for connecting to a computer, Ethernet port and MicroSD.
Accelerator Mali 400 MP quad
Quad-core Rockchip RK3188 Cortex A9
Operating System Android 4.2.2
2 GB of RAM
8 GB NAND + memory card slot MicroSD
Communications: Wi-Fi (802.11 b / g / n), Ethernet
ORIGINAL SPECIFICATIONS from producer
Android-4.2.2 ОТТ TV Box г Quad Core CPU Rockchip RK3188, 2 Гб оперативной памяти, Wi-Fi, Bluetooth, HDMI
Remote
Model Number: X5 II
Black Colour
CPU: Rockchip RK3188 Quad Core Cortex A9 1.6GHz
Ram: 2GB DDR3
Rom: 8GB NAND Flash
OS: Android 4.2 Jelly Bean 4.2.2
Wireless connection: 802.11 b / g / n
GPU: Quad Core Mali400
Inputs and outputs: RJ-45 Micro SD Card reader, USB OTG, SPDIF
3G: Support external 3G DONGLE modem
Specification:
Configuration

CPU

RK3188 Quad Core 1.6GHz (Cortex-A9)

GPU

Quad Core Mali-400 GPU @533MHz

RAM

DDR3 2GB

ROM

NAND Flash 8Gb

External memory

T-Flash(max 32GB)

Antenna

antena WIFI wewnętrzna

Media

Video format

MPEG-1/ MPEG-2/ MPEG-4/ H.263/ H.264/ AVS/ VC-1/ RV8/ RV9/ RV10 / VP6/ VP8 / Sorenson Spark/ MVC 1080p@60fps (1920x1080)

Audio format

MP3/WMA/APE/FLAC/AAC/OGG/AC3/WAV

Image format

Max.8000x8000 JPEG BMP GIF PNG

Communication

Ethernet

10/100M LAN

WIFI

802.11 b/g/n

Bluetooth

BT 4.0

3G

Modem 3G DONGLE

Sensor

IR Sensor

1 * IR

Indicator

Power LED

1 * Blue

Inputs and outputs

Button

1 * Power

1 * Update

USB 2.0

3 * Standard USB

1 * Micro USB z OTG

DC-in

1 * DC in Jack

HDMI

1 * HDMI A Type

SPDIF

1 * S/SPDIF (2CH, 5.1CH)

RJ45

1 * RJ45

SD

1 * SD card

Power

Power Supply

5V 2A

Software

Operating system

Google Android 4.2, with the function of OTA

Language

Multilingual

Keyboard

qwerty keyboard

Working conditions

5°C - 35°C, 30% - 90% humidity

The storage conditions

-20°C - 60°C, 10% - 90% humidity
About NAND Flash:

Android OS holds 1.5GB-2.5GB memory
Applications are also part of the memory
NAND Flash = Available space + space + space OS Android Apps = 8GB
If you want to scan your RAM, you can do it in the APPS menu.
Includes:
1 x Android TV Box Media Player X5II
1 x remote control
1 x HDMI cable
1 x Charger
1 x Micro USB cable
1 x OTG cable
1 x instruction (Eng)
Додаткова інформація
EAN штрихкод
Ні
Виробник
VenBOX
Чіпсет
RK3188 Quad Core 1.6GHz (Cortex-A9)
Пам'ять
2GB DDR3
Flash
8GB NAND FLASH
Живлення
DC 5V/2A
WiFi
802.11 b/g/n
ОС
Android 4.2.2
3D
Hardware 3D graphics acceleration
3G
Support external 3G dongle
I/O

Wejścia i wyjścia;

Przycisk

1 * Power 5V 2A
1 * Update

USB 2.0

3 * Standard USB
1 * Micro USB z OTG

DC-in
HDMI
SPDIF
RJ45
SD

Підтримувані мови
Polski/Angielski/Niemiecki + 24 inny
Формат декодеру
MPEG-1/ MPEG-2/ MPEG-4/ H.263/ H.264/ AVS/ VC-1/ RV8/ RV9/ RV10 / VP6/ VP8 / Sorenson Spark/ MVC 1080p@60fps (1920x1080)
Медіа формат
MPEG-1/ MPEG-2/ MPEG-4/ H.263/ H.264/ AVS/ VC-1/ RV8/ RV9/ RV10 / VP6/ VP8 / Sorenson Spark/ MVC 1080p@60fps (1920x1080)
Аудіо формат
MP3/WMA/APE/FLAC/AAC/OGG/AC3/WAV
Формат фотографій
Max.8000x8000 JPEG BMP GIF PNG
Інші формати
Ні
Інше
Ні
Додатки
Ні
Розміри
130 x 130 x 20
Вага
Ні
Колір
Чорний
Комплектація

1 x Android TV Box X5II Media Player
1 x pilot
1 x kabel HDMI
1 x ładowarka
1 x kabel Micro USB
1 x kabel OTG
1 x instrukcja (Eng)