ZX20 series IP phone system is SIP based and optimized for the small and medium business in daily communications. ZX20 series is able to accept 30 user registrations, and easy to manage a fully voice over IP system with the convenient and cost advantages.
Based on embedded technology, ZX20 series provides a solid, uniform platform for voice as well as data network communications. It offers a seamlessly integrated solution for the up-to-date telecommunication needs. Being more flexible, ZX20 series integrates 2 analog ports to become a feature-rich PBX system.
ZX20 series integrates NAT functions to make it perfect for small business usage. Besides traditional PBX system functions, it provides many advanced functions including voice mail to email, web management and etc. Designed to run on a variety of VoIP applications, the IP PBX provide IP-based communications, voice conferencing, support paging/intercom, call recording and BLF (Busy Lamp Field) functions. It also supports call detailed record (CDR), centralized Auto-Attendant (AA), and Interactive Voice Responses (IVR). ZX20 series utilizes standard PSTN lines via the interfaces of gateway to support seamless communications among local calls, SIP-based endpoints including low cost long distance call service, telephone number portability and one network for both voice and data.
Applications
SOHO
Small Businesses
Medium Businesses
Multiple Site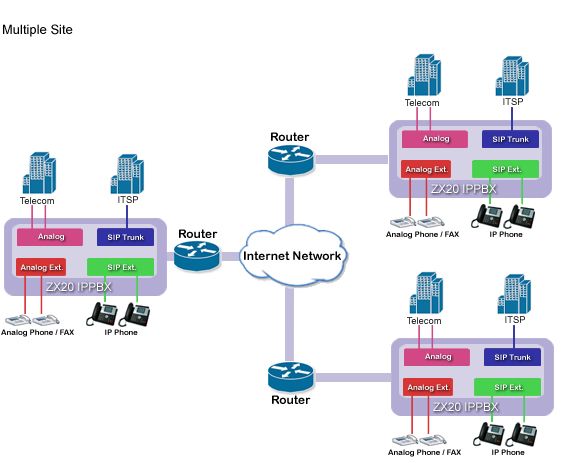 Technical Specification
PBX Features
BLF (Busy Lamp Field)
DID (Direct Inward Dialing Number)
Conference Room(3)
Automated Attendant
IVR (Interactive Voice Responses)
DISA (Direct Inward System Access)
CDR (Call Detailed Record)
Voicemail
Feature Codes
SIP Trunk (10)
Blacklist
Phone Book
IP Phone Provisioning
Multiple Language (Chinese / English /Portuguese)
Support Skype for SIP
T.38 FAX(Pass-through)
Trouble Shooting (Ping, Traceroute)
System Capacity
30 IP Phone Users
256 MB Onboard Flash
Recording(GSM): 2100 min
Voicemail(GSM): 2000 min
Call Capacity
Caller ID
Video Calls
Call Paging and Intercom
Call Forward
Call Pickup
Call Park
Call Group
Call Routing
Music on Hold / Transfer
Call Transfer
Call Hold
Call Waiting
Call Queue
Call Recording
Three-Way Conference
Codec & Protocol
Audio Codec:
G.711(a-law, u-law),G.729,G.726,
GSM,Speex
Video Codec Pass-through:
H.261,H.263,H.263+,H.264
Protocol: SIP (RFC3261) , IAX2
DTMF: RFC2833, SIP INFO, In-band
Network Features
DHCP Server
IP Assignment (DHCP / Static)
VPN Client (Support N2N / L2TP)
Network Address Translation (NAT)
DDNS Client (Support Dyndns.org /
No-ip.com)
Support PoE
Hardware Specifications
CPU: 400MHz Blackfin 533 Chip

256M On-board NAND Flash

64M SDRAM

1 WAN Port

1 Power Adapter Port

1 Reset Button

2 Analog Ports

LED indication

Power Supply:

Input: 100 V ~ 240 VAC

Output: DC 12 VDC, 2.0 A
System
Open Source uClinux
Asterisk 1.4.x
Environmental Specifications
Temperature: -10°C-45°C
Storage temperature:-30°C-65°C
Humidity: 10-80% no dew
Додаткова інформація
| | |
| --- | --- |
| Вага | Ні |
| EAN штрихкод | Ні |
| Виробник | Zycoo |
UpSell Products